Huawei is the leader of mobile phones in China. Their products are smartly designed and cater well to the Chinese market. When they recently unveiled their new stylish red and blue P9 phones, they asked Vogue to do an advertorial featuring creative use of their new phones. As the Creative Director, I decided to do a shoot that accentuated the phone's color scheme of red and blue. The shoot was a mix of fashion and still-life that involved two photographers over two cities (Stockton Johnson in Shanghai for fashion, and Dennis Yong in Hong Kong for still-life) that I had to coordinate in order to produce a shoot that tied everything together cohesively.

I created abstract geometric elements in both the fashion and still life shoots that would sit well side-by-side in a layout, and stylist Grace Lam and I carefully chose the styling so that the colors and visuals would offer a unified message despite being two separate shoots. Choosing model poses was tricky - the model must display the phone, but it has to feel like a natural pose. The image with the male model leaning was the most difficult one to capture…he literally had to fall down with each snap of the camera - though of course we had a mattress that would catch him each time!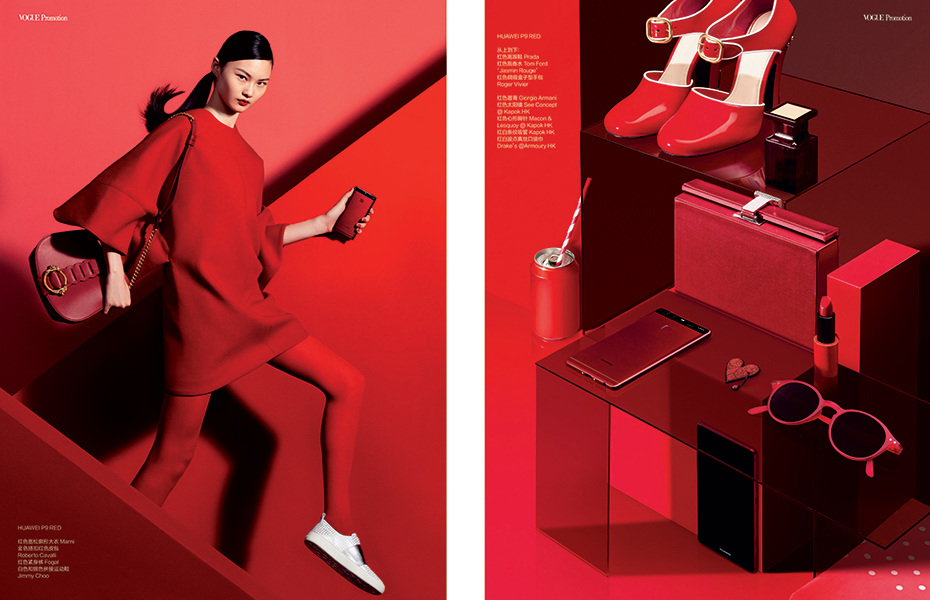 Huawei was so happy with our shoot that they commissioned an extra image (below), which they used as their official campaign image for the red and blue P9 series. This image was used on billboards and various media in both the Chinese and international markets. My inspiration for this image came from a classic Patrick Demarchelier American Vogue shot of the model Caroline Trentini jumping along with a cameraman. In our image, however, I turned the male model upside down to give it a yin-yang motif: the idea that the two phones combine to make a complete set.